Looking for some summer lovin? Well, look no further. Kenneth Play and Dr. Zhana will be teaching workshops at Naughty in N'awlins this year! This event is attended by over 1,000 couples, making it the largest lifestyle convention for couples in the world! It's a total takeover of Bourbon Street in the French Quarter of New Orleans. Talk about a great place to explore some new hookups!
They'll be teaching free workshops, running playlabs, and offering private sex coaching sessions! Look below for a preview of some of the classes they'll be teaching!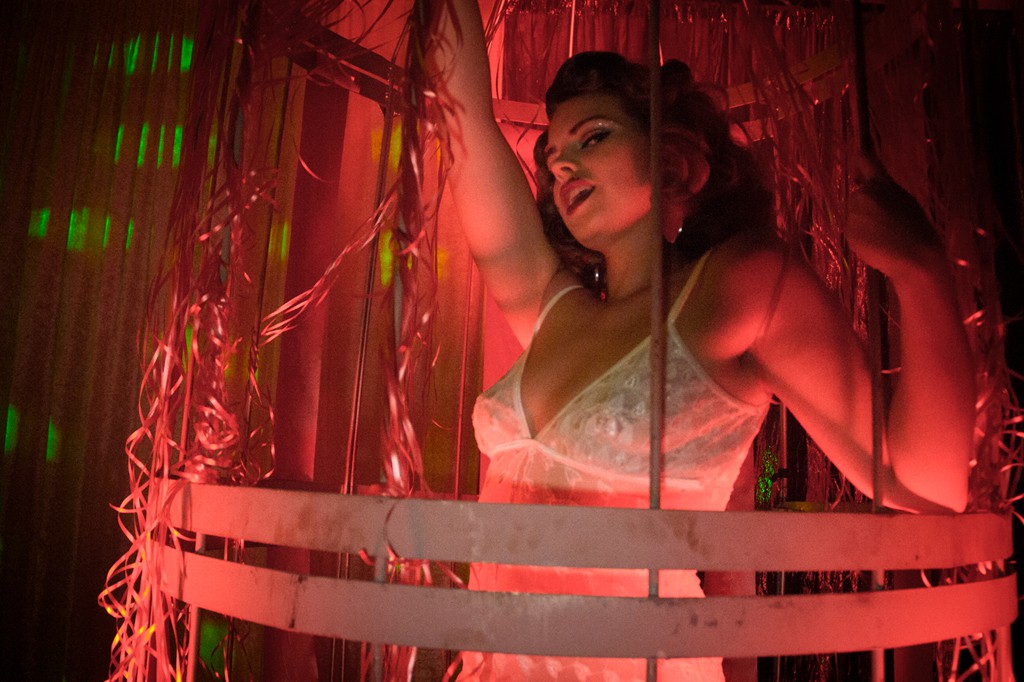 Register for Naughty in N'awlins here! These classes do have a maximum capacity, so be sure to sign up as soon as possible to save your spot!
Free Workshop Descriptions
These 60-minute workshops are free to attend, and are available on a first-come, first-serve basis!
Play Parties: New Research on Who Attends and What Happens
Anecdotal evidence aside, very little is known about the people who attend play parties and what happens at these events. Last year, Dr. Zhana Vrangalova (NYU) and Dr. Brooke Wells (Widener University) decided to change that. Between April and December 2015, they collected online survey data from over 1,300 U.S. residents who had attended at least one play party (defined as a gathering of 6 or more where people openly engaged in sexual or kinky activities) in the past year. In this presentation, Dr. Zhana will share their findings on the demographic characteristics, psychological and relationship well-being, and sexual health of people who go to play parties as well as the sexual behaviors, condom use, substance use, and sexual consent experiences that occur at play parties.
Playing It Safer: Navigating Sexual Health when Having Multiple Partners
Most people think that monogamy is a safer option than nonmonogamy when it comes to protecting their sexual health. While that would be true in theory, it's not necessarily true in practice. Research finds that people in consensually nonmonogamous relationships have similar rates of STIs as those in monogamous relationships – because not all supposedly monogamous people are faithful to their partners, and when they are, they are less likely to follow safer sex protocols. Indeed, people who are at at high risk for sexual and reproductive health outcomes due to their sexual behaviors (porn stars, sex workers, people in certain types of CNM relationships), often are particularly vigilant about and develop strict safer sex protocols to minimize these risks. But what exactly should be your safer sex protocol?
Sexual Fluidity: Heteroflexible, Bicurious, and Mostly Straight
The largest nonheterosexual group out is not gays, lesbians, or bisexuals. It's the "mostly straights" – those with a slight degree of same-sex interests who are not exclusively straight, but not same-sex oriented 'enough' to consider themselves or to be considered by others as bisexual. Who are they and how do they differ from both exclusive heterosexuals and more substantial bisexuals in their sexual orientation profile, personality characteristics, life experiences, attitudes toward sexuality, and health outcomes and behaviors? In this class, we will summarize the research on people who identify as mostly straight, bicurious, or heteroflexible and discuss ways in which this new knowledge influences how we talk and think about sexual orientation in research, theory, practice, and our daily lives.
10 Dos and Don'ts for Healthy Hookups
From a Tinder swipe to a drunken hookup, there has never been a time in recent history when casual sex was more prevalent, accepted, and easily available. It is, therefore, imperative to arm ourselves with the right information and skills, backed by #LegitSexScience, to make smarter decisions about casual sex. Everyone deserves a healthy and authentic sex life where they feel empowered and self-expressed. In this course, Dr. Zhana uses empirical research of casual sex as well as the science of sex itself to teach people about healthier casual hookup practices and learn the scientific evidence that says casual sex might be good for you. Come learn how to find authenticity in casual hookups, choose your safer sex protocol, negotiate consent, design sustainable long-term relationships with casual sex, manage social stigma, and most importantly, give and receive pleasure!
The Sexual Bucket List: 50 Ways to Play
In this fun seminar, Kenneth will go over a comprehensive list of fifty red-hot things to try at least once in the bedroom (or car, party, closet, plane). And what better place to try new things than at Naughty in  Nawlins? Excitement is high, curiosity is peaked, and pleasure is just around the corner! It's time to unleash your inner sexual adventurer! In this class, you'll consult your "yes, no, maybes," and reflect on past experiences to shine some light on areas that crave exploration. The best part? In this class, you'll have the opportunity to meet other potential play partners who want to explore the same things (wink, wink)! Let Kenneth give you some new, playful, and wild ideas of things to add to your sexual bucket list!
"Wow" Your New Lover: How to have Awesome Sex with a Brand New Partner
It's fun and exciting to have new partners, but first-time hookups can be awkward. How do you get to know your new lover's body quickly and make them feel amazing on the first try? Come learn the eight essential steps to an awesome first-time hookup! The class will cover the hookup process from beginning to end, from finding your partner to aftercare and beyond, rewriting the typical script to allow for an incredible experience right from the start. We'll discuss how to navigate consent, how to learn about your new lover's body in record time, how to communicate effectively before, during, and after sex, and how to play Kenneth Play's #1 Best Sex Hack Game ("The Pleasure Loop") to learn how to give and interpret pleasure feedback. We'll even cover techniques to shorten the orgasm gap, giving the clitoris some limelight and empowering women to take charge of their hookup experience.
The Ultimate Toy Combo To Keep In Your Bedroom (live demo)
This class will reimagine what you think of when you hear the phrase "power couple." Come to this hands-on live demonstration and let Kenneth play show you how to use the two most powerful sex toys, the Vibratex Magic Wand and NJoy Pure Wand, together to blow your mind in bed! Don't have your own "Power Couple"? Kenneth will be providing the toys for this workshop, so just bring your curious, sexy selves, and learn the sex hacks for making the most out of this dynamic duo. The techniques in class can be applied to both men and women, from G-spot and clit stimulation to prostate play and cock vibration.
Female Pleasure Hacking: Sex Tips & Tricks Every Woman Wished Her Lover Knew
This workshop is for all who want to try out new techniques for exploring female pleasure! Sex Hacking is the utilization of methods that minimize effort and
maximize pleasure, using pro tips, simple tricks, and shortcuts to facilitate a deeper connection with your lover. This workshop will go over several different techniques, so you can find the ones that intrigue you and bring them back to the bedroom. Join Kenneth Play for this live demo, and learn how to apply these sex hacks to blow your lady lover's mind!
The Art and Science Squirting
Squirting has been popularized by the porn industry and hyped up to be the sign of the ultimate female orgasm, the female "money shot" (or a party trick for men's glory). There have been many debates about the makeup of the female ejaculate, and the limited amount of research on the topic combined with mixed messages from the media leaves much room for confusion about this mystery liquid.
Dr. Zhana will share what we know from the latest published research to debunk some of the most common misconceptions about female ejaculation, answering common questions like:
Can every woman squirt?
If you can't squirt, is something wrong with you?
Does squirting always means an orgasm?
What is the makeup of female ejaculate?
What are the two types of female ejaculates?
Kenneth Play, who teaches hands-on Squirting PlayLabs worldwide, will be sharing what he's learned from hands-on experience and teaching hundreds of new couples how to experience squirting for the first time.
Don't miss this comprehensive class that covers everything you've ever wondered about squirting!
Two-Hour PlayLabs
Want something a little more intense? These two-hour PlayLabs feature live demos and in-depth tips and tricks.
Kinky PlayLab for the Loving Couple

Are you bored with rose petals, candlelight and gentle penetration? Does the idea of getting your hair pulled or being tied up excite you or your lover? Do you want to take it to the next level, but feel like you're too "nice" to get kinky? It's time to take your sex life from "mild" to "wild"! This workshop is for the curious who want to explore their playful side in a nonjudgmental and nurturing space. Let Kenneth Play show you the ropes (and whips and floggers)! Join us for this playful and interactive workshop about how to unleash your primal passions in the bedroom.
In this 101 PlayLab, you'll learn:
– how to design a kinky scene
– how to choose and use toys with confidence
– why and how to exchange in power play
– how to have fun and safe impact & bondage play
– how to give aftercare like a pro
Don't miss this opportunity to learn how to spice things up in the bedroom!
Squirting PlayLab
Ever wondered about the elusive world of female ejaculation (squirting)? Join Kenneth Play in this clothing-optional, interactive PlayLab to learn the pro hacks,
simple techniques, and toys you need for squirting. Watch a live technique demonstration as seen on Kenneth's video featured on Playboy TV. You'll get the opportunity to practice these techniques live while Kenneth helps you perfect your skills in person, much like a personal trainer helps to align the body to get the most out of an exercise. Master G-Spot Sex Hacking techniques to minimize effort and maximize pleasure by lining up the body in the most biomechanically-optimal positions. Learn to use his favorite G-Spot toy to keeping her "coming" back for more! Build your confidence and "wow" your lover!
Kenneth's PlayLabs have been praised on Vice.com and The Independent! In this PlayLab, we'll cover:
– female anatomy
– debunking myths about squirting (is it pee?)
– how to develop an internal GPS to locate the G-spot
– optimized biomechanics (less work, more pleasure)
– must-have toys for squirting
– finding the perfect balance of friction, pressure, and speed
– how to make a huge mess without ruining your mattress