Then this video might be for you…
From a deeply sexually insecure Asian immigrant to becoming the most viewed sex educator on PornHub and being named the World's Greatest Sex Hacker by GQ, Kenneth and his co-teacher R.E. Zee demonstrate all the foundational knowledge you need to become a squirting expert. His teaching styles are often described as a mashup of Bruce Lee, Martha Stewart, and Tim Feriss, and he has been featured in Vice, Thrillist, Time Out, Playboy, Psych N Sex, and Fatherly.
If you haven't yet attended one of Kenneth's Squirting Workshops, now's your chance to get lifetime access to the content!
Kenneth starts by presenting information to get you and your partner ready. He goes over how to give each other constructive feedback, and covers the structure of the internal clitoris.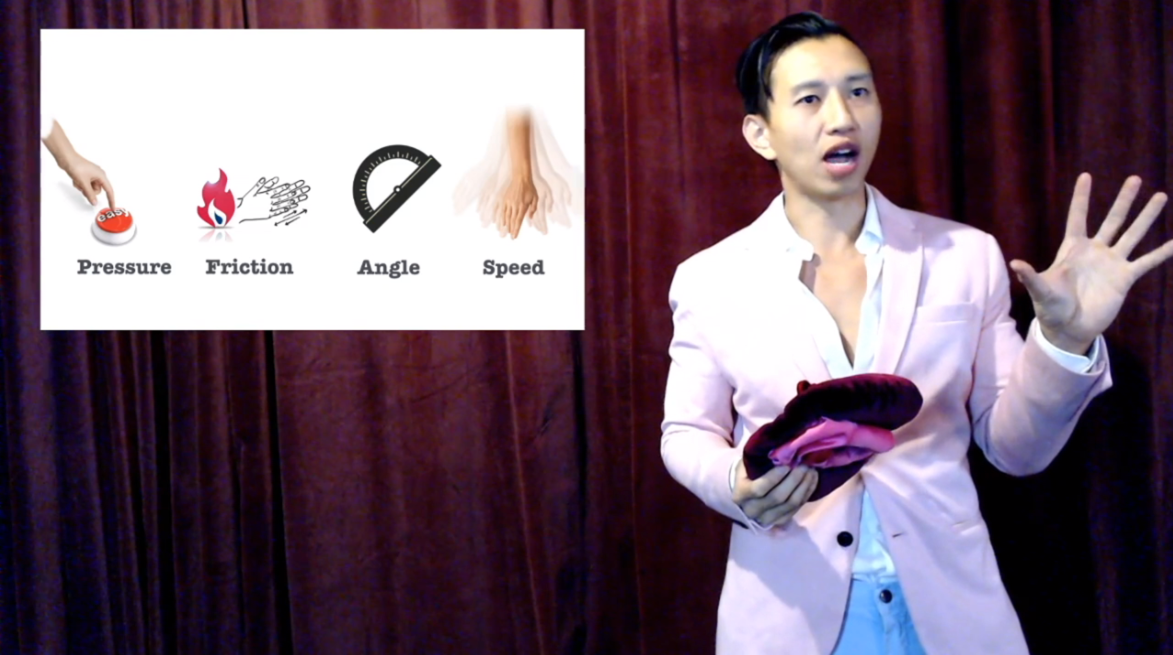 Then he brings this knowledge to life by demonstrating on R.E., connecting all information you already know about cliteracy and anatomy to things you just can't learn from a book. Kenneth and R.E. demonstrate several different techniques using both hands and toys. This video gives you the best seat in the house for Kenneth's legendary sex hacks. The demonstrations show you what it looks like when a woman squirts in real life, and how it might be different from the expectations porn gives us.
The course features three parts:
Watch a Ted Talk-style presentation, featuring the latest research on the topic, brought to you by sex researcher Dr. Zhana. Kenneth ties this research in as he talks about anatomy, pleasure mapping, and sexual communication.
Next is a live demo, where Kenneth and his co-teacher go over the pleasure and squirting techniques, play-by-play. Unlike in a live PlayLab with a crowded room, every participant has an optimal viewing angle for you to grasp all the subtle nuances that go into the techniques.
Throughout the live stream, we were taking questions from live viewers. The video finishes up with a Q&A session where Kenneth answered those audience questions!
LEARN NOW!
$47 = lifetime access
100% Satisfaction guaranteed!
Risk-free learning!
If you haven't yet attended one of Kenneth's Squirting Workshops, now's your chance to access the content!